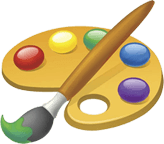 Calling All Artists!
Do you believe in the
AngelPay Mission
? If so, try to capture your feelings in a unique and artistic illustration and send it to us! If it meets our quality and legal compliance standards, then we will add it to the AngelPay Gallery. Some submissions may also be displayed within the rotating images on the AngelPay homepage.
Rewards for Your Artistic Talent.
If your submission is the winner of our periodic art contest, you will be automatically promoted to the rank of "Star" in the
AngelPay Rewards Program
. What does that mean? For any organization that you introduce to AngelPay that becomes an AngelPay Member, you will receive nearly 30% (the Star Level) of all the payment processing income that AngelPay receives from that Member, forever! And as you rise higher in the Rewards Program, your cash rewards will also be higher.
Fun, Meaningful, and Rewarding.
AngelPay supports artistic entrepreneurs
, but not every artist has the time or inclination to turn their artistic passion into a major business venture. But that doesn't mean they can't get involved in the AngelPay Community. The AngelPay Art Contest is one of the ways that artists can get involved in the AngelPay Community in a fun, creative, and meaningful way. And it can be a source of substantial income, too. Even if you don't win the first time, you may receive valuable feedback on how to improve your artwork to make your submissions more likely to win in the future.
Submission Guidelines
Age Requirement:
18 years of age or older.
Artwork Must Be Original:
You must be the creator of the artwork. Your artwork must be your own original concept and not a copy of anyone else's copyrighted material. Upon submitting your artwork, you are solely responsible for any infringement on copyrighted materials.
Repeat Entries:
There is no restriction on entering artwork that has been submitted previously, but you should take into account any feedback you have received and adjust your artwork accordingly.
Copyright:
You retain all copyrights to your artwork without exception.
Non-exclusive Permissions:
By entering this AngelPay Art Contest, you are granting AngelPay a non-exclusive, perpetual worldwide license to reproduce your artwork on the AngelPay website and to use in any of our global communications. All winning entries will be displayed in the AngelPay Gallery.
File Sizes & Formats:
Your images should be 1400 (width) × 425 (height) with a resolution of at least 72DPI. Acceptable file formats: JPG, GIF, PNG.
Submitting Your Artwork:
Post your artwork to any of the major cloud-based storage services (e.g., Dropbox, Google Drive, Box, OneDrive, etc.) Then send a link to your artwork through our
contact form
. Type "Art Contest Submission" in the Subject line to ensure your submission is routed to the appropriate department.
Evaluation Criteria:
Does the artwork visually support the philosophical principles of the AngelPay Mission?
Is the artwork interesting?
Is the artwork high-quality (i.e., it should be crisp, no pixilation, clean lines, etc.)
Does the artwork illicit a meaningful emotional response like all good art should?
Verification of Original Work:
AngelPay reserves the right to request proof that your entry is your own original artwork created solely by you. Non-compliance with this rule can result in immediate disqualification.
Submission Deadlines:
None. This is an ongoing art contest.
VOID WHERE PROHIBITED BY LAW.
We are not aware of any countries or jurisdictions that would outlaw this art contest, but if you happen to live in such a place, please don't enter this art contest.