Overview
The AngelPay Mission:
"Return wealth and power to the creators of value."
History of Innovation & Positive Impact.
For decades, the AngelPay Team has directly contributed to the evolution of the global financial services sector. When we invented and founded Authorize.Net in 1996, there was no secure and scalable way to process payments and credit cards over the Internet. The technologies we invented gave birth to the global e-commerce sector and continue to empower billions of people worldwide, reduce poverty in virtually every country, and generate trillions of dollars of new wealth throughout the global economy. Today, Authorize.Net is the largest payment gateway provider in the world and has processed over $1 trillion to date.
The Genesis of AngelPay.
After we sold Authorize.Net, we had some time to think deeply about the many problems that have plagued the financial services sector for decades. Our solution to many of these problems is the nonprofit AngelPay Foundation. AngelPay is a 501(c)(3) nonprofit organization founded by the most experienced team in the global payments industry. AngelPay is our way of giving back to the community that has been so good to us over the years.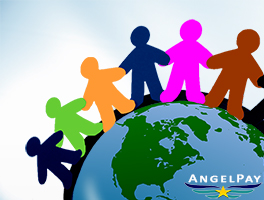 A Growing Community.
AngelPay delivers reliable payment processing services to a global community (the "AngelPay Community") of organizations that need to process payments with the lowest possible cost structure. AngelPay is best known for our nonprofit payment processing platform, but we also seek to use our skills, technology, and resources to provide free and low-cost tools and leadership to serve the public interest in other areas of the financial services sector. Our strong focus on the AngelPay Mission ensures that our incentives are always fundamentally aligned with the interests of the communities we serve. This enables us to authentically promote the common good and improve the quality of life in the communities and organizations that depend on AngelPay.
Leadership Team
The AngelPay Community is comprised of thousands of merchants, volunteers, affiliates, and other stakeholders, but the core AngelPay Team is relatively small. All our systems and services are automated so we don't need thousands of employees to execute our
Mission
, but we are very grateful for our thoughtful, highly accomplished staff, advisors and AngelPay Ambassadors.
Managing Director
Bio Snapshot:
Former U.S. Air Force; U.S. Intelligence; Cryptological Linguist; A.I. & security tech architect; commodity trading & and asset management advisory; Vision Bankcard partner; former board member of the Financial Policy Council; numerous financial and technical credentials and certifications; has written nonpartisan books (including
Broken Capitalism: This Is How We Fix It
) and many nonpartisan articles about economics, geopolitical systems, philosophy, etc. See
Eanfar.org
and LinkedIn for detailed bio.
Managing Director
Bio Snapshot: Original inventor/founder of Authorize.Net, the world's first and currently the largest online payment processing company, which gave birth to the global e-commerce sector in 1996; proficient in several programming languages; Vision Bankcard partner; as a philanthropist he has supported many charities and causes.




Director of Public Relations
Bio Snapshot: Best-selling author; co-founder of homeland security and nanotech battery technology companies; founder and former chairman of several New York City nonprofit charities and events; former championship pro skier; speaks multiple languages (English, French, German, some Italian and Hindi); Harvard Business School. See LinkedIn for detailed bio.



Director of Treasury Risk Management
Bio Snapshot: Over 30 years of financial risk management at global banks; built & managed currency and treasury management and hedging departments at Deutsche Bank, Societe Generale, Wells Fargo, among others; Pace University Law School and Tax Program.


Senior Advisor
Bio Snapshot: Former Goldman Sachs Mergers & Acquisitions (M&A) investment banker; former Portfolio Manager at Partners Group (largest private equity fund in EU); former Bär & Karrer Attorney in Switzerland; former Portfolio Manager and Director of Corporate Finance at Vontobel Bank; Iron Man Race competitor; speaks English, German, French, Italian and some Russian.


Senior Advisor
Bio Snapshot: Yale University School of Management Family Offices Steering Committee Member. Princeton University Council of Family Offices and Endowments Member. NYU Stern Family Office Council Steering Committee Member. Awarded Young Global Leader by the World Economic Forum. Advisory Board Member of the Family Office Association. CIO of L Investments. Board Member of I2BF Venture Fund II. Worked in Corporate Finance Dept. at Merrill Lynch & Investment Banker at Lazard Frères--over $20 billion of M&A transactions. Was a Private Equity Principal at Argonaut Capital. Board Member of nonprofits: Most Valuable Kids of Greater New York; Athletes for Hope; Care for Kenya. Former world-ranked pro tennis player. Harvard University, JFK School of Government, Executive Degree: "Global Leadership & Public Policy for the 21st Century". BA in Business Admin, Intl. Finance & Marketing from Univ. of Miami.
Senior Advisor
Bio Snapshot: Founder of ICV, the premier global investor conference management company for Hedge Funds, Mutual Funds, Pension Funds, Foundations, Endowments, Private Equity / Venture Capital firms and Family Offices. ICV helps impactful organizations by providing access to ICV's global investor network via events, investor forums, retreats, roadshows and VIP delegation visits. Board Member of the Children's Village; Board Member of the Childhood Cancer Kids; Board Member of the Harmon Foundation; 20-year career on Wall Street in investment banking & equities trading.

Senior Advisor
Bio Snapshot: Over 30 years of institutional investment management, precious metals and high-frequency trading, technical sales and management experience at major Wall Street firms, including NASDAQ, Fidelity, Paine Webber (acquired by UBS), Reuters (Financial Information Services), among others. Earned several securities licenses (FINRA Series 7, 63 and 55), a BBA in Finance & Business Law, and completed the Securities Industry Institute Business Program at Wharton Business School.